Festival (CARé) on the protection of women and female leadership in DRC
Research project on the protection of women and female leadership.
September 25, 2022. Actionaid DRC has presented from September 21 to 23 in Kinshasa, in the communes of Gombe and Lemba, the results of qualitative research on the protection of women and young girls conducted in the provinces of North Kivu, South Kivu and Kwilu in collaboration with IDS, CEPRISE and INA, on this occasion of the 20th edition of the Artistic Framework for Exchanges (CARé) festival, focusing on the theme: "The protection of women and female leadership" .
According to the Program Officer, Mrs. Cécile Kasoki, the problem of the protection of women and young girls still remains a major challenge for society, "we wanted the results of our research to be presented not only in these three provinces, but also to be extended at national level, which is why we came to Kinshasa as part of the CARé festival, in order to guide the central government in its next organization to fight against gender-based violence (GBV) and to use it through the Ministries of Family and Child Gender, Humanitarian Affairs, Justice and Culture, Arts and Heritage in an artistic approach," she said.
The Professor of the National Institute of Arts (INA) and director of the "CARE" festival, Van Nzeyi Musala, on this occasion, explained that this project lasted 18 months.
"The sociological and anthropological research carried out in Bukavu, Goma and Kwilu enabled us to also work on artistic resilience, with a view to selecting the various artistic institutions that were able to exist despite the lack of financial and material means during the period. containment," he explained.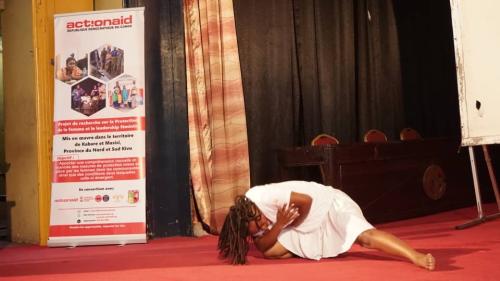 This festival is part of the national strategy to fight against gender-based violence according to Mr. Christophe Baelongani, in charge of studies at the Ministry of Gender, Family and Children, who solemnly opened the meeting.
It should be noted that the first day was devoted to the presentation of the results of the research, the second day was based on the exhibition and during the last day there was culture, where musicians, dancers and slammers came from Bukavu and Goma and performed in honor of the woman.
In addition, the research programme organized training for artists in Goma, capital of the province of North Kivu, on the various artistic expressions, in particular photography, painting, slam, literature, theater, music, and percussion.
This research aimed to broaden the understanding and inclusion of civilian violence in the community.